Contact Us!
Simply call or email:
603-239-6721
bobsfuelcompany@gmail.com
Mailing Address:
21 Warwick Road
Winchester, NH 03470
---
We have what you need ~ Kerosene, Heating Oil, Mixed Fuel, Dyed Diesel (Winterized), and Clear Diesel (Winterized)
---
With a full staff and plenty of product, we're ready to deliver to you!!
Call us when your tank has reached the 1/2 way point.
(603) 239-6721 or use the portal link provided!
---
Annual Furnace and Boiler Cleanings - $160.00
**Includes:  Nozzle, Pump Screen, Fuel filter, Brush & Vacuum Unit, Safety Check, Tank Inspection, Efficiency Test**
(Spin On Fuel Filters are an extra $18.00)
Your furnace/boiler will be brushed and vacuumed out.  The fuel filter, pump screen, and nozzle will be replaced.
The igniter and cad cell will be tested.  The chamber kit and oil tank will be inspected.
An efficiency test will be performed.
Call 603-239-6721 Today!
---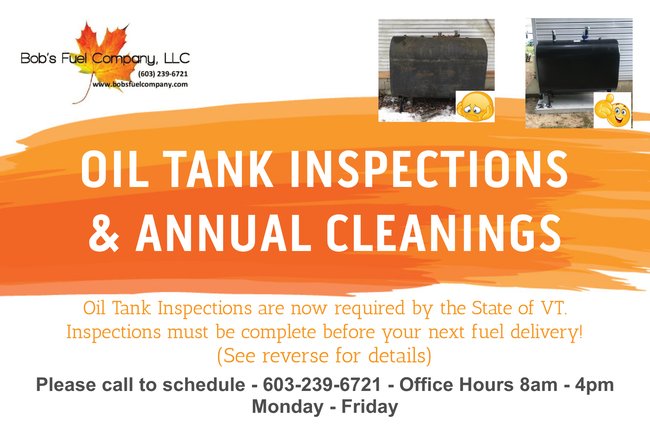 **Vermont Customers - Oil tank inspections are now
required every 3 years!**
Please contact our office to discuss your options to get your VT Tank Inspection complete.
All tank inspections must be completed before your next delivery!!
Call today to schedule!
---
Why Complicate Things?  We Make It Easy To Heat Your Home!
We're a 3rd generation family company providing:
STRONG customer service
Consistently LOW pricing
FRIENDLY, HONEST, and RELIABLE service,
As well as maintaining PERSONAL RELATIONSHIPS!

What Does Bob's Fuel Have To Offer?
Savings, Reliability, and Great Customer Service
These days, everyone is trying to keep as much money in their pocket as possible!  We'll help you do that!  We're very focused on offering the most competitive pricing we can!  In the event you find that we are not the lowest, simply let us know as we do offer price matching.  To help our customers, through the tough, cold winters, we also offer Budget Plans, Pre-buy (Price Protection) Programs, and Automatic Delivery.  We work hand in hand with the Fuel Assistance offices in NH, MA, and VT.  But, most importantly, we offer 24/7 service (Fuel and Burner Service) for emergencies!
Come Join Our Family!
We accept all major credit cards:

21 Warwick Road
Winchester, NH 03470
(603) 239-6721  Fax (603) 239-6793
bobsfuelcompany@gmail.com
Next to Gary's Power Equipment -- Across from Kulick's Plaza
Available at our office 8:15am - 5:00pm
- Off Road Diesel
- On Road Diesel
- Dyed Kerosene
------------------------------------
Did you know?
Oil heat is the safest, most efficient means to heat a home or business. Fuel oil is a very stable, combustible, non-explosive product, which addresses some of the safety concerns that surround other fuels. The efficiency is a result of the high BTU content found in a gallon of oil, versus an equal measure of natural gas, propane, or electricity.
-ICO
Testimonials
"You guys are great!  I ran out of oil, it was freezing outside, it was freezing in my house and with an email to Bobs I had oil within two hours! That is good service people!" - Alyssa W.
"Thank you so much for your quick response – A+ customer service as always!"