Click here to view **PHOTO GALLERY OF COMPLETED JOBS & MAKES/BRANDS THAT WE USE OFTEN**
Have you had your furnace or boiler cleaned this year??
Call us today at 603-239-6721 to schedule your annual furnace/boiler cleaning!
When you schedule your cleaning with Bob's Fuel, you'll always receive friendly service.  We don't suggest unnecessary repairs or upgrades.  Of course, if issues are found (especially safety or environmental) we'll be sure to notify you and help to get the repairs scheduled and completed as cost effective as possible.
Scheduling your furnace cleaning to take place in the summer will save you money!!  We always offer our Annual Spring Cleaning Special, which runs April 1 - July 31 (unless extended)!
---
ANNUAL CLEANING SPECIAL:           $125.00   **SPECIAL runs through 8/31/20**
(in the event you need a spin on filter, this is an additional $15.00)
What is included in the Annual Cleaning?
* Brush and Vacuum the unit
* Change Oil Filter, Pump Screen, and Nozzle
* Thorough safety check of entire system - 27-point oil burner inspection list
* Inspect oil tank
---
7/22/20:  Vermont Customers - The State of VT is requiring an inspection of ALL oil tanks every 3 years.  Most likely, you're due for an oil tank inspection, as this is a NEW requirement. All oil tanks must be inspected BEFORE your next oil delivery!!  Contact our office to schedule your appointment - 603-239-6721 - bobsfuelcompany@gmail.com.
- Oil Tank Inspection (with no other services/cleaning) - $80.00
- Oil Tank Inspection with Annual Furnace/Boiler Cleaning - $135.00
(The $135 is with our Annual Cleaning Special - this deal is valid through 9/30/20)

---
COVID-19 Details:  COVID-19 Operations and Procedures
https://drive.google.com/file/d/1O6u5U2Zfls7xrB_Ayu2T46e9F9tqzGmL/view?up=sharing
Burner Service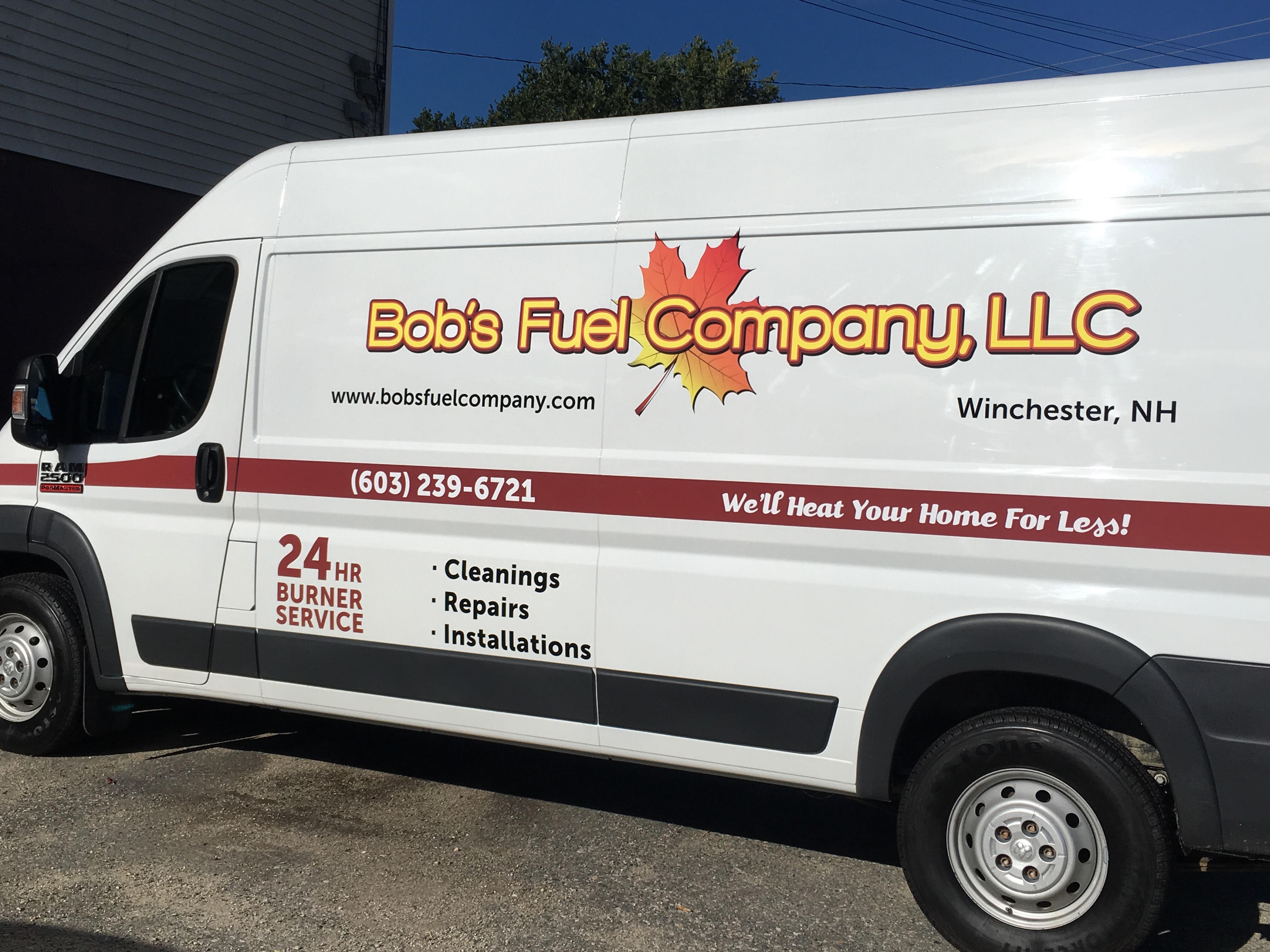 24 Hours/365 Days
With our in-house Burner Service Department, we are able to tackle:
* Annual Cleanings - Furnaces, Boilers, Oil-Fired Hot Water Heaters
* Repairs / Replacements
* New Oil Tank Installations
* Hot Air Furnace Installations
* Water Boiler Installations
With qualified, educated, courteous technicians, we'll be sure to help you stay warm and energy efficient!
Call 603-239-6721 for all of your heating needs!  For more information regarding Burner Service, click HERE.
---
Frequently Asked Questions
Q. How often should I clean my furnace?
A.  To maintain optimum efficiency, your furnace/boiler should be serviced annually.
Q. Do we stock parts for quick repairs?
A. Yes.  Please call in advance to be sure we have what you need, but we do try to keep up with our stock room inventory.
Q. Who do I make the check payable to?
A. Please make checks payable to:  Bob's Fuel Company, LLC
Q. Do you accept credit or debit cards?
A. Yes.  We can accept the following:  Visa, Master Card, Discover, Amex